Saint Clairsville Bail Bondsman does Belmont County bail bonds in all local courts!
100 W Main St,
St. Clairsville, OH 43950
BAIL BONDSMAN Belmont County Ohio
What is a Bail Bond?
Most people are familiar with 24 hour bail bonds. Someone arrested on a criminal charge may be held until trial, unless they furnish the required bail. The posting of a Belmont bail bonds acquired by or on behalf of the incarcerated person is one means of meeting the required bail. When a bond is issued, the bonding company guarantees that the defendant will appear in court at a given time and place. The Government entity (city, county, state or federal) in whose court the defendant must appear, is protected by the bond. If the defendant fails to appear, the bond amount becomes payable and is forfeited as a penalty by the surety insurer issuing the bond. Bail bonds usually require collateral (cash, a deed, or other property) to protect the surety.
Bail bonds are issued by licensed "Bail Agents" who specialize in their underwriting and issuance. Bail agents also are known as bail bondsman act as the appointed representatives of licensed surety insurance company.
What is the purpose of bail?
The purpose of bail is to assure the attendance of the defendant when his or her appearance is required in court, whether before or after conviction.
How much does a St. Clairesville Bail Bondsman charge?
The cost to the consumer for bail bonds in St. Clairesville Ohio is 10% of the total amount of the bond, plus actual, necessary and reasonable expenses incurred in connection with the transaction. The court determines the amount of the bond. We can take as little as 4% down and finance the balance.
How does the judge set your bail amount?
To set your bail the judge at your bond hearing needs to balance two things. First they need to make the bail amount large enough that the defendant will show up for court. The judge does this on a case-by-case basis.
For example let's say two people are arrested for the exact same crime. The only difference between the two people is their net worth. A $1,000 bail amount for someone with a net worth of $10,000 is a much bigger incentive to show up for court, so imagine for those like John Shark with a higher net worth. For someone with a net worth of ten million dollars a $1,000 bail amount may not be a large enough incentive.
The second thing the judge must do at your arraignment is to make sure that the bail amount isn't excessive. This comes straight from the 8th Amendment.
Any restrictions on how high my bail can be?
Each surety company must file rates with the Ohio Department of Insurance. Bail agents in Ohio must charge the same amount! In Ohio, the rate is 10%.
What can I do if my bail is too high?
The Eighth Amendment to the U.S. Constitution requires that bail not be excessive. This means that bail should not be used to raise money for the government or to punish a person for being suspected of committing a crime. The purpose of bail is to give an arrested person her freedom until he or she is convicted of a crime, and the amount of bail must be no more than is reasonably necessary to keep him or her from fleeing before a case is over.
What can I do if my Belmont County bail bond is too high?
If you can't afford the amount of bail on the bail schedule, you can ask a judge to lower it. Your request must be made either in a special bail-setting hearing or when you appear in court for the first time, usually called your arraignment.
How soon can I appear before a judge?
A person taken to jail must be brought "without unnecessary delay before the nearest available…magistrate." In no event should more than 48 hours elapse (not counting weekends and holidays) between the time of booking and bringing you to court. m
How do I pay for bail?
There are two ways to pay your bail. You may either pay the full amount of the bail or buy a bail bond. A bail bond is like a check held in reserve: It represents your promise that you will appear in court when you are supposed to. You pay a bond seller to post a bond (a certain sum of money) with the court, and the court keeps the bond in case you don't show up. You can buy a bail bond in Ohio for a 10% premium, which you pay to a bail bondsman which is nonrefundable. In addition, the St. Clairesville bail bondsman may require "collateral." This means that you (or the person who pays for your bail bond) must give the bond seller a financial interest in some of your valuable property. The bond seller can cash-in this interest if you fail to appear in court.
Although the right to bail has constitutional recognition in the prohibition against excessive bail, bail is not always a matter of right. However, with certain exceptions, a defendant charged with a criminal offense shall be released on bail.
What is the consumer agreeing to in the bail contract?
The consumer is agreeing to:
Pay the premium for the bond at the established rates.
Provide required collateral.
Pay actual, necessary and reasonable expenses incurred by the bail agent in connection with the transaction.
Excess travel expenses (described as outside of the bail agent's normal scope of business, or into an area where the agent does not advertise).
Posting fees (for payment to an agent in another area to physically deliver a bond. An agent should not charge a posting fee for the normal delivery of a bond in the agent's advertising area).
Bounty agent/skip tracer expenses (These are usually based upon the amount of the bond).
Payment of the bond amount for the defendant's failure to appear.
Attorney fees and court costs.
Keep the bail agent advised of address/employment changes of the defendant or other parties to the agreement.
Aid the bail agent/skip tracers in locating the defendant (where someone other than the defendant has secured the bond).
The consumer should read all agreements thoroughly, asking questions until all items and obligations are understood.
Provides an avenue for the incarcerated person to be out of custody until his/her day in court, allowing the defendant to continue his/her day-to-day life until the criminal matter is resolved.
The bail agent will provide the following:
Receipts and copies of all signed documents.
Information regarding the status of the bond and changes in assigned court dates.
The status of any costs due, as imposed by the court...
Assistance in locating the defendant should a forfeiture occur.
Appearance before the court regarding the bail bond when such appearances are necessary (sometimes requiring the hiring of legal counsel).
The timely return of collateral upon exoneration of the bond.
Who decides how much bail I have to pay?
Judges are responsible for setting bail. Because many people want to get out of jail immediately and, depending on when you are arrested, it can take up to five days to see a judge, most jails have standard bail schedules which specify bail amounts for common crimes. You can get out of jail quickly by paying the amount set forth in the bail schedule.
Is it true that a defendant who proves his reliability can get out of jail on his word alone? A. Sometimes. This is known as releasing someone "on his own recognizance," or "O.R." A defendant released O.R. must simply sign a promise to show up in court. He doesn't have to post bail. A defendant commonly requests release on his own recognizance at his first court appearance. If the judge denies the request, he then asks for low bail. In general, defendants who are released O.R. have strong ties to a community, making them unlikely to flee. Factors that may convince a judge to grant an O.R. release include the following:
The defendant has other family members (most likely parents, a spouse or children) living in the community.
The defendant has resided in the community for many years.
The defendant has a job.
The defendant has little or no past criminal record, or any previous criminal problems were minor and occurred many years earlier.
The defendant has been charged with previous crimes and has always appeared as required.
Bail agents are licensed and regulated by the Ohio Department of Insurance. You can obtain the licensing status of a bail agent by visiting ODI's Web site at:
http://www.insurance.ohio.gov/Agent/Pages/SuretyBailBond.aspx
Local Court Information below:

Legal Division
101 West Main Street
St. Clairsville, OH 43950
740-699-2169
Nancy Otto
Kim Shumaker
Glena Wagner
Amber Sikora
Meghan Ross
Belmont County Clerk of Courts and staff are responsible for maintaining the records of all Felony Criminal, Divorce, Court of Appeals, Notary Records, and Major Civil Litigation cases in the county.  With a staff of 6, they process around 80,000 entries per year onto Court Dockets and maintain past records going back to the early days of Belmont County. They ensure that Juries are properly called when needed by their Judges and that Subpoenas and other Legal Documents are properly served on parties.
Public Record Search
Our records are now available online. Search Dockets from 1995 to the present using our CourtView eAccess site.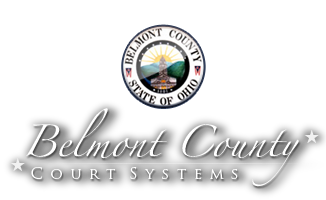 Belmont County Western Division Court
147 West Main Street
St. Clairsville, Ohio 43950
Phone: 740-695-2875
Judge Eric Costine
Prosecutor Helen Yonak
Court Days: • Tuesday • Thursday
Tobias Stidd, Probation Officer
Belmont County Northern Division Court
400 Imperial Plaza
Bellaire, Ohio 43906
Phone: 740-676-4490
Judge Chris Berhalter
Prosecutor Helen Yonak
Court Day: Wednesday
Belmont County Eastern Division Court
400 Imperial Plaza
Bellaire, Ohio 43906
Phone: 740-676-4490
Judge Albert E. Davies
Prosecutor Scott Lloyd
Court Days: • Tuesday • Thursday
Chad Moore, Probation Officer Northern & Eastern Div. 400 Imperial Plaza Bellaire, Ohio 43906 740-676-4490 PROBATION OFFICER BY APPOINTMENT ONLY
All Belmont County Court Divisions are open Monday to Friday, 8:00 a.m. to 4:00 p.m.
Individual court appointment times vary. Please refer to the court notice that you have received to find the time of your particular appointment.
Belmont County Prosecutor
Dan Fry
147 A West Main Street
St. Clairsville, Ohio   43950
740-699-2771