Ashland Municipal Court Links
Ashland Municipal Court Links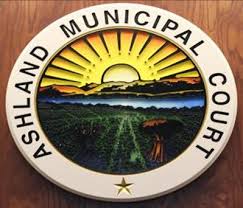 SEARCH ASHLAND MUNICIPAL DOCKET
COURT & CLERK'S OFFICE HOURS
Monday-Friday 8:00 a.m.-4:30 p.m.
Phone: 419-289-8137
Fax: 419-289-8545
CONTACT US
ABOUT ASHLAND MUNICIPAL COURT
JURISDICTION:
* TERRITORY-TRAFFIC & CRIMINAL-> ASHLAND COUNTY
* CIVIL: AMOUNTS LESS THAN $15,000 AND SMALL CLAIMS LESS THAN $1,500
TRAFFIC & CRIMINAL
Any crime or traffic violation committed in Ashland county, including any municipality will be handled either by a Mayor's Court of the municipality or this Court.
Traffic offenses and crimes may be classified as Misdemeanors of the 1st, 2nd, 3rd, or 4th Degree or a Minor Misdemeanor.
Penalties:
¨ 1st Degree Misdemeanor: A fine of not more than $1,000 and/or imprisonment not more than 6 months.
¨ 2nd Degree Misdemeanor: A fine of not more than $750 and/or imprisonment not more than 90 days.
¨ 3rd Degree Misdemeanor: A fine of not more than $500 and/or imprisonment not more than 60 days.
¨ 4th Degree Misdemeanor: A fine of not more than $250 and/or imprisonment not more than 30 days.
¨ Minor Misdemeanor: A fine of not more than $150.00
PAY ON-LINE
TO PAY A WAIVER, BOND OF PAYMENT ON YOUR CASE, PLEASE CLICK HERE