Cleveland Man Sentenced Death – Execution Delayed
Inmate's attorneys ask to stop execution, citing possible lingering death
Execution date set for death row inmate convicted of killing a Cleveland man in 1986.
Lott, 51, was convicted and sentented to death for murdering John McGrath, 82, after setting him on fire in his Cleveland house in 1986, the newspaper reported. McGrath survived in a hospital for 11 days before dying.
Federal public defenders representing Lott asked U.S. District Judge Gregory L. Frost to stop Lott's scheduled March 19 execution, citing problems with the Jan. 16 lethal injection of Dennis McGuire. They said there is a "substantial risk of lingering death, of degradation, and of unnecessary pain and suffering" under Ohio's current process.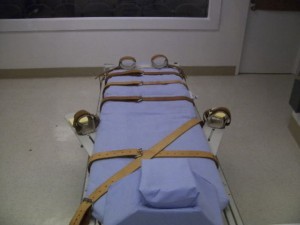 The governor's move comes three weeks after the state executed Dennis McGuire, an act that took 26 minutes and caused his family members to complain that it amounted to cruel and unusual punishment.
Initial reports from the prison system show the execution followed state policies and procedures. The Ohio Department of Rehabilitation and Correction is doing a broader examination into McGuire's death.
The number of new death sentences in Ohio and other states with capital punishment have dropped sharply in recent years. It's a trend experts attribute to increased public skepticism about the penalty in an era of high-profile DNA exonerations, the staggering costs associated with pursuing death sentences and the option now in all 33 death-penalty states of sentencing killers to life in prison without the possibility of parole. Five states have abolished the death penalty since 2000
Lott was nearly executed in 2004, but the U.S. Supreme Court blocked it.